Arjuna Award -
Col R S Sodhi
Col Ravinder Singh Sodhi (Retd)
Arjuna Award 1983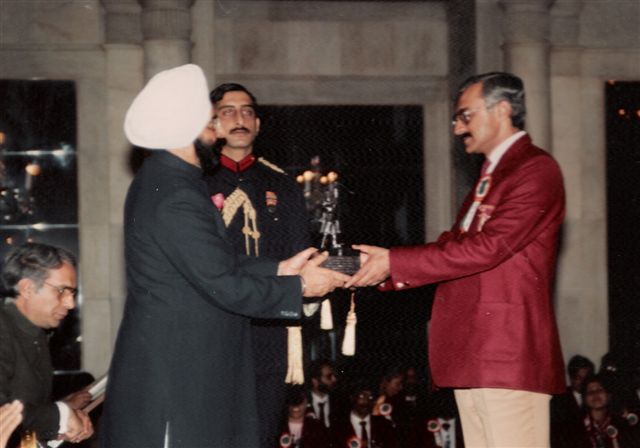 Son of an army officer, Ravinder Singh Sodhi was brn in Rawalpindi (now in Pakistan) on 23 May 1943. Before joining the National Defence Academy in 1959, he first studied at Yadvindra Public School, Patiala, and then passed his Senor Cambridge from Lawrence School, Sanawar. He was among the young polo players from the army who dominated the Indian scene from the 1960s onwards, acquiring a handicap of five goals by the end of his active playing days. Popularly called "Pickles", Colonel R S Sodhi had excellent stick work, ball control and anticipation, always rode with soft hand.

Pickles hit the Indian polo scene during his days as a cadet and after being commissioned into the 61 Cavalry, the only horse cavalry regiment in the country. A first class rider, he took part in the National Equestrian Championships for many years. He was instructor at both the National Defence Academy and the Indian Military Academy and also qualified as an equestrian instructor from the Italian Cavalry School in Rome.

He was an automatic choice to play for India in his active days of polo and represented both his country and his regiment in tournaments both at home and abroad. He was a regular in the annual matches for the Sudan Challenge Cup, played alternatively in Engloand and India. He was a member of the team that won the National Polo Association Championship for 13 years and was among the highest Handicap polo players in India, rated at 5 goals for 15 years. He captained the team that won the Open Indian Polo Association Cup at Calcutta in 1983.

Coming from a family of horse lovers, Pickles is married to well-known swimmer, Nafisa Ali. His elder brother, Colonel H S (Billy) Sodhi, is also an equally well-known Cavalry officer, proficient in both equestrian events as well as polo. Both the brothers are recipients of the Arjuna Award. While Billy received the award in 1976 for excelling in Equestrian, Pickles received the same honour seven years later in 1983 for his achievements in polo.