Arjuna Award -
Col K S Garcha
Col Kuldip Singh Garcha (Retd)
Arjuna Award 1987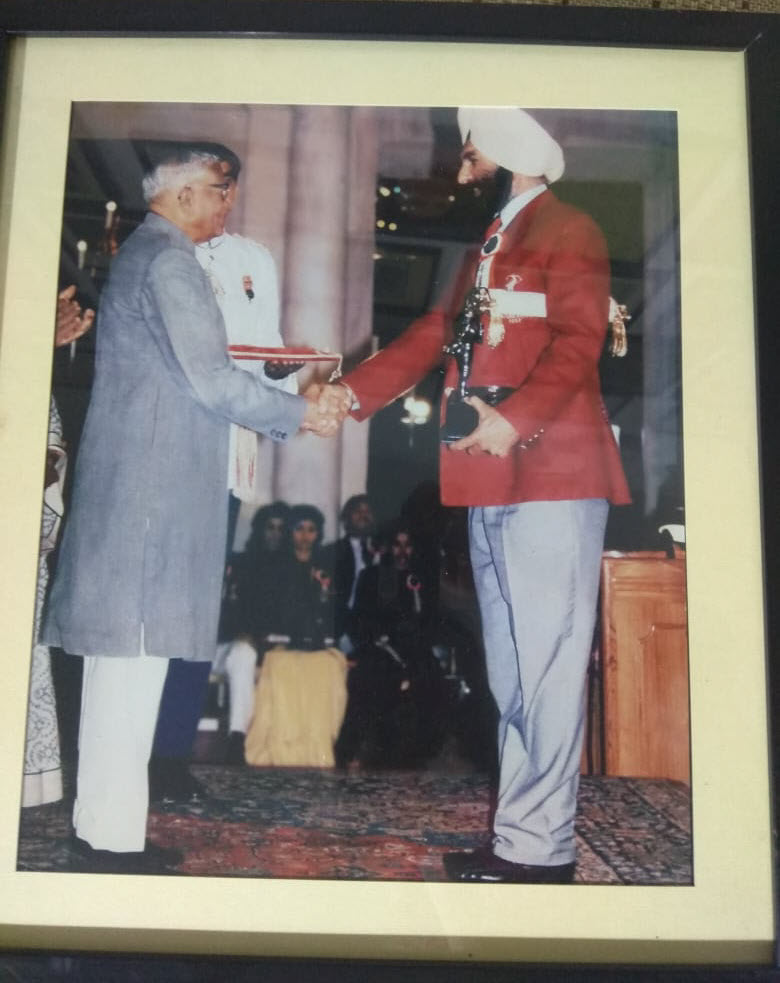 Kuldip Singh Garcha lists "travelling" as a hobby in his biodata. No other game afforded him as much opportunity to practice his hobby as polo, the game he took up in the National Defence Academy. And till well after his retirement polo became second nature to him, a continuing prcess even now, as coach and mentor of the younger players.

Born on 11 December 1945 in village Majara of Ludhiana district in Punjab, Colonel Garcha belongs to a family with an army tradition. And because of the periodic transfers of his father, Garcha had to change six schools before joining the NDA in July 1962. And from then onwards his life was one long association with Army and Polo, both synonymous, both highly competitive. He prospered in both, retiring as a Colonel from the 61 Cavalry and attaining a handicap of five goals on the polo field.

Colonel Garcha indeed has been travelling, first because of the compulsions of transfers which his father faced and then as he followed in his father's footsteps in the army. And there was the additional incentive prvided by polo. The game has taken him all over India and to eighteen countries in the world. Polo has been his passport to fame and recognition. During this long stint in the Army, he captained the teams of National Defence Academy, Indian Military Academy, 61 Cavalry, Officers Training Academy and Eastern Command. He was a member of the team that won the President's Cup on 1984 and Indian Polo Association championship in 1984,1985 and 1987.

He has played in tournaments abroad almost every year from 1973 to 1995, the last year as captain-cum-coach of the Indian team that reached the final round of 46-nation World Cup held at St. Moritiz. Earlier he had coached young men under his charge through tough group meetings where the teams included Pakistan, South Africa, Japan, Australia and New Zealand.

Garcha played for the Indian team that won the Whereby Park International Cup and Whereby Polo Cup in Australia in 1984; Long Island Polo Challenge Trophy in USA and Kingston Polo Cup in Jamaica in 1985; Sudan Polo Challenge Cup and Colchester Polo Cup in UK in 1986 and Mexicano Polo Tournament in Mexico and Los Angeles Arena Polo Cup in USA in 1987. He represented India at the World Cup in 1991.

Garcha, who started his sports career at the age of 19, has a cupboard full of cups and trophies that include the Piloo Modi Award for the best polo player of the 1984 season. He has been honoured by Rajasthan Sports Council with the Rajasthan Shree in 1986, the year he was also awarded the Rastradoot Award for being the best sportsman of Rajasthan. A year later in 1987 came the recognition in the form of the Arjuna Award from the Government of India.

A gifted horseman and great team-man, Colonel Garcha has mingled with the cream of society, including royalty but without affecting his approach to life. A simple man and easily accessible, Colonel Garcha has an endearing nature that has helped him become one of the most popular figures on the polo scene. Besides being a member of the Indian Polo Association and Delhi Polo Club, he is a member of the Handicapping Committee of Indian Polo Association.